Get more website traffic & inbound sales
Turn-key Search Engine Optimization.
Tailored for your industry.
Book Your Complimentary
Consultation Today.
Let's chat about your SEO goals.
---
"*" indicates required fields
Get your website ranking higher & more visible to prospective customers
Google updates its search algorithm often, so you must consistently optimize your website to stay highly ranked. Our SEO packages include advanced keyword research, on-site SEO, link building, and blogging. These strategies enhance your website's rankings and pave the way for its success.
With billions of search queries inputted into Google daily, how can you ensure you stand out? We can help you find the best search engine results by cutting through the noise. We take the time to understand your business and use proven strategies to help you succeed. The search engine market is tough, but through diligent monitoring and updating, we can see some impactful results.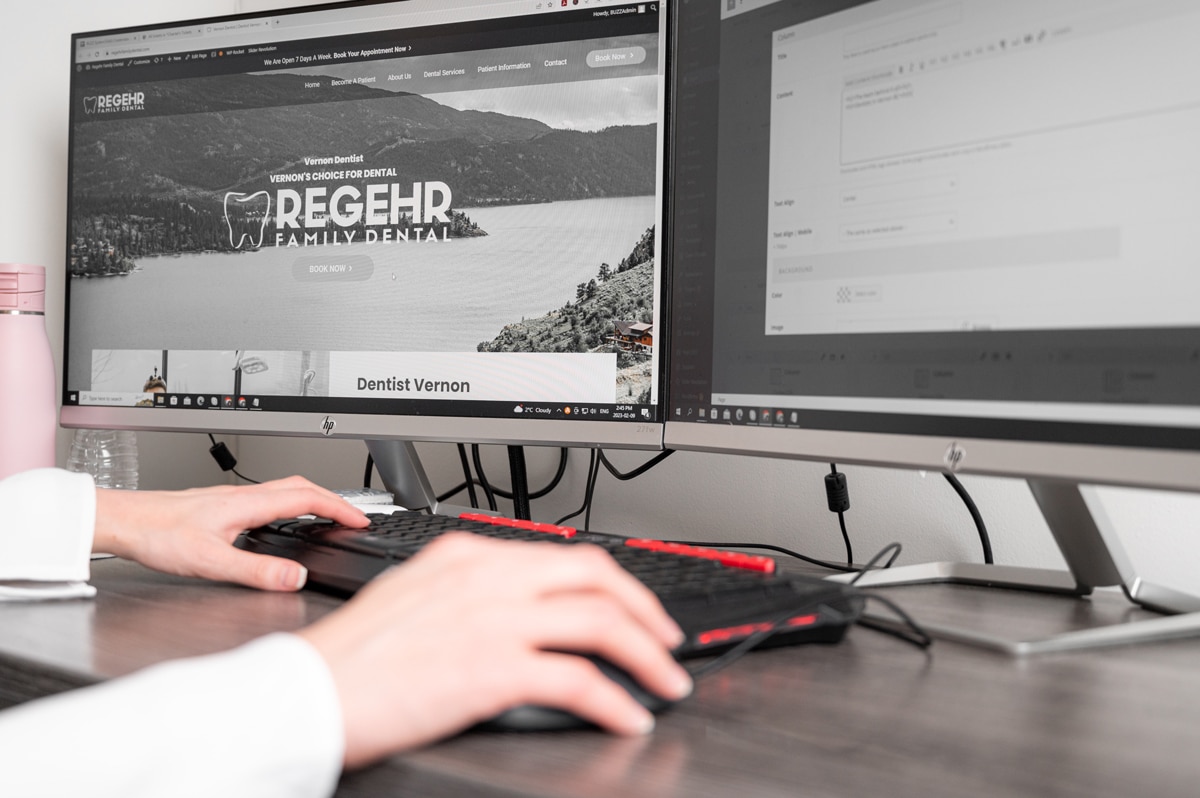 01
Stay Ahead of
Your Competitors
Let our local SEO Kelowna experts help you stay on top of the search engine rankings. We'll analyze what's working best and ensure that it continues working in the ever-changing SEO landscape. Also, by monitoring your competitors, we identify new keywords and link building opportunities that will keep you ahead of the competition. Adaptability and constant evolution help us to keep you in the lead.
Our comprehensive SEO services will make your website easy to find. Our SEO Team will increase your website traffic and improve conversions by getting your website and Google Business Profile in front of your local target audience with ongoing search engine optimization tailored for your business. We use the most searched keywords as our guide to align you with customers ready to interact with your business.
03
Best In Class
Technology
Our SEO software is designed to support your business and ensure that your SEO campaigns run smoothly. We monitor the progress of your website's SEO and set goals regarding rankings and traffic levels. We provide a suite of tools to help you from the initial phase through implementation and maintenance. Our goal is for your site's SEO strategy to be firing on all cylinders! Let us do all the research so you can invest your time into your business.
Unlike typical advertising, search engine optimization is trackable through our SEO software and Google Analytics. Weekly and monthly reporting shows precisely how your website is performing, giving you the confidence your marketing dollars are being well spent. Regular tracking also allows for time-sensitive updates and constant alignment with search trends.
Frequently Asked Questions
1What is SEO, and why is it essential for my business in Kelowna?
SEO, or Search Engine Optimization, is the process of optimizing your website to rank higher in search engine results like Google. It's crucial for businesses because it helps improve online visibility, attract more local customers, and ultimately boost your revenue.
2How can Buzz Marketing Agency help my Kelowna-based business with SEO?
Our Agency is familiar with a broad range of local businesses and industries. We use customized techniques to suit your demographics and clientele. Our understanding of the local landscape and the most up-to-date digital marketing & SEO strategies ensure your business ranks well in Kelowna's Google search results.
3How long does it take to see results from SEO efforts in Kelowna?
The timeframe for SEO results can vary depending on several factors, including the competitiveness of your industry and the current state of your website. Typically, you can expect noticeable improvements within 3-6 months, with more significant gains over time. We check in with you regularly to share our strategies, insights, and updates.
4Can you guarantee the top spot on Google for my Kelowna business?
While we cannot guarantee the top spot on Google, we are committed to improving your website's ranking and visibility. Our SEO experts use industry best practices and continually adapt our strategies to maximize your long-term success in Kelowna.
5How does Buzz Marketing Agency stay updated with SEO trends and changes affecting Kelowna businesses?
Our team stays up-to-date with the latest SEO trends, algorithm updates, and industry changes through continuous education and active monitoring of results across all of our clients. This strategy ensures that we implement the most effective strategies for Kelowna businesses.
6What can I do to ensure the success of my SEO implementation?
Your SEO will work best if you have a comprehensive online presence. At Buzz, we offer several complementary services, like web design and social media management, that can help ensure your ranking stays high. Because we're not only an SEO agency but work across multiple marketing initiatives, we understand how all the pieces fit together. Understanding how your SEO is supported through other marketing strategies will ensure the best outcome.
What our clients are saying
Our clients highly recommend us because we're Kelowna's digital marketing experts. We provide professional web services and ongoing hosting support for companies across a variety of industries, all custom-built and carefully tailored to your needs, helping you grow your business and reach your goals faster.
Learn More About Search Engine Optimization
Attract More Customers
It's easy to get started, download our product guide.