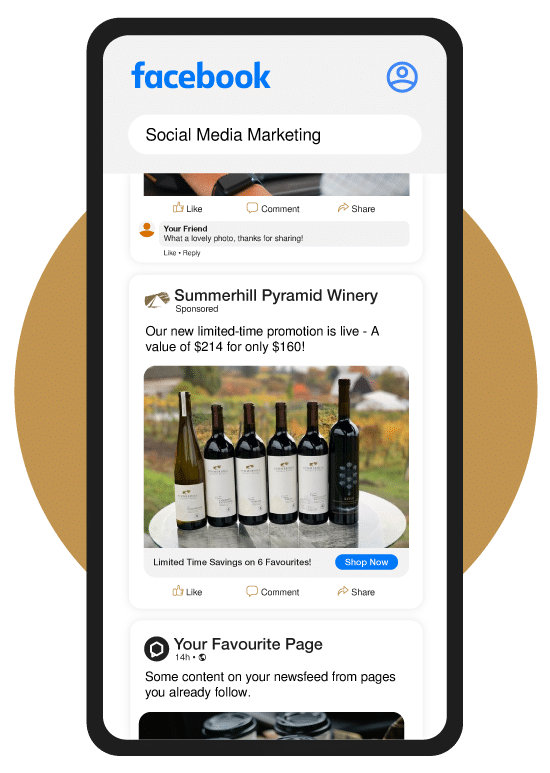 Get more leads, sales and profits with social media marketing
---
Reach your target market with Facebook, Instagram and LinkedIn marketing. We have the experience & proven strategies that will take your social marketing campaigns to the next level and deliver results. Let's work together and see what we can do.
Our team will create, run and optimize professional Facebook & Instagram marketing to get the best results for your budget. No more figuring out complicated social media platforms and online marketing strategies. We've got that covered, so you can spend more time growing your business!
02
Custom
Content Creation
Our content creators and social media team take the time to get to know your company. Through this process, we ensure each piece of content created resonates with your target audience. Our bespoke approach ensures what's being published on your social media channels aligns with your brand's voice and message which leads your audience down an engaging path towards conversion.
With the increase of social media options, it is more important than ever to develop an omni-channel strategy for your business. Our team will determine how advertising on different channels will work and which ones make the most sense given what services or products you want promoted. Whether it's Facebook Marketplace or Instagram Stories we find the best placements and targeting for your ads and deliver a return on your ad spend.
We know you want to get the results, and we won't let your goals fall by the wayside. Your success is our number one priority! Whether it be generating more leads for a sales campaign or engaging with customers through your social media channels - everything comes down to whether or not those goals are achieved.
Attract More Customers
It's easy to get started, download our product guide.